Superb DIY Headboard Ideas
Tufted Upholstered Headboard Project:
Again a praise-worthy, bizarre and luxurious piece of headboard, handcrafted at home! Install the frame with wood and add the peg board in front of the frame! Now apply coats of spray adhesive and layer the foam and batting over it! Apply the final fabric cover and get crafty with holes, string and buttons for modern style tufting! Complete guide and instruction here
remodelaholic
King Size Upholstered Headboard:
Grab any printed fabric like this damask fabric with turquoise solid patterns! Cut the fabric in squares without damaging or losing the shape of patterns! Now put a wood sheet square (smaller than the fabric square) in each fabric square and fold back the edges! Don't forget to fill it soft using a fluffy polyester fiberfill! Now prepare a desired amount of such a squares and line them up on a wooden board for a precious headboard! An easy yet modern headboard idea! Full Details and tutorial here
realitydaydream
Camel Back Style Rustic Wooden King Headboard:
First of all make a template out of cardboard like this curvy headboard template! Don't shy to go with your own choice! Now put it onto your floored up wooden boards and trace the outlines! Now cut the wood using a jigsaw along the marked template outlines! You will get an artistic wooden headboard at the end! Complete directions and instructions here
prettyhandygirl
Advertisment
Homemade Tufted Headboard:
Cut out the wooden template for your headboard from a plywood sheet like this camel-back style headboard template! Stick the foam sheets over it using an adhesive and then add the batting and fabric! Choose the batting and fabric with several extra inches as you have to fold them back to wood later! Now decide the locations for buttons and put the screws in to wood along with the washers! Beautiful tufted headboard would be ready to bring coziness and style to you bed! Full DIY guide and Tutorial here
pneumaticaddict
Old Door into Precious Headboard:
Use the old doors as alternatives to expensive wooden headboards! Recondition the select the door by removing the hardware first like the lock holes, handles and hinges! Fill the wooden surfaces smooth using wood putty and just apply the finishing paint coats you have selected! Transform the reconditioned door into headboard by adding a chair-rail molding to top of it! Full Directions and DIY Tutorial Here
countryliving
Upcycled Cedar Fence Pickets Headboard:
Floor up the selected wooden planks brace them together! Now trace out the pattern by putting a pattern template onto it, use cardboard to make a template first! Go with jigsaw and cut along the traced lines for final artistic headboard! Pretty simple to do! Full Guide and Tutorial Here
addicted2decorating
Advertisment
Self-Made Upholstered Headboard with Nail head Trim:
Make your bedroom note-worthy with the help of this upholstered headboard! It will goes up to the ceiling for a whole dramatic background to your bed! Willing to make it at home? Full Guide and Details Here
hgtv
Beautiful Tufted Headboard:
Scooped self-tufted headboard, will make a cozy statement in your bedroom! Get ready with a some plywood, batting and with a fabric cover if want to own it! Step by step instructions for this tufted headboard project are here
thriftydecorchick
White DIY Ruffled Headboard:
Boost the feminine touch of lady bedrooms with this ruffled fabric headboard! It will bring soft cozy vibe also to your bedroom! All you need to get busy a little with your sewing machine and fabric stripes! Complete directions here
web.archive.org
Advertisment
Upcycled Aged Wood Headboard:
Rusticity of wood would work best if you want to give a lovely aged touch to your bedroom! The method is to use rustic wood to make a beautiful headboard! If you are all trying to find the rustic wood, the planks from rustic pallets would also work great!
designsponge
Fancy Book Headboard:
Put together two cut down sizes of a plywood sheet or get a single one according to your measured values! Next just start hiding the wood by mounting the old books over! Hammer nail over the books to wood to hold books in place even white they are hanging! This headboard would make a valued gift for book lovers! Full guide and DIY tutorial here
designeverydayblog
Purple and White Framed Tufted Headboard:
Time to recycle the old dresser mirror frames for stylish headboards! Just fill up the space holding the mirror with tufted headboard, you will get a nicely framed tufted headboard! This will lure the number of views of your bed and will add a "wow" factor to entire bedroom! Want to know that how to do the fittings and tufting as well? Here is the full step-by-step DIY guide
makeit-loveit
Advertisment
Gorgeous Fabric Headboard:
Get crafty with the printed fabric squares and with cardboard or plywood squares to build this beautiful fabric headboard! Wrap the wooden squares in the fabric squares with a little foam and batting stuffed in! Repeat this process to get as many tufted squares as you want for your headboard! Complete guide and DIY tutorial here
allthingsthrifty
Kid's Headboard Made of Noodles:
Rustic Wooden Headboard:
Advertisment
DIY IKEA Hack Stikwood Headboard:
This stikwood headboard will be a satisfactory solution for those who are not handy at wood-works but want to own a beautiful wooden headboard! Simple use the stikwood to cover a Malm headboard and enjoy a headboard very close to real wood-made! Full DIY instructions and project details here
sugarandcloth
Stylish Upholstered Headboard with Accent Nail Head Trim:
First of all design the wooden headboard using plywood or any other wood like this! If you have composed a number of wooden parts to compose your targeted model then do install the latest hardware to secure them in place! Finally finished wooden headboard will work as a template, give it a foam overlay and then a layer of batting over! Final step would to cover the entire model with fabric! Don't forget about the nail head trim! Full guide for this modern tufted headboard is here
huntedinterior
Custom Upholstered Headboard with Nail Head Trim:
This precious upholstered headboard is also what you need to cozy up your bedroom in a a style! A wooden board, a fabric with your own chosen prints, foam, batting and a nail head trim are all you need to clone this modern tufted bed! Step-by-step construction and details here
fromgardners2bergers
Advertisment
Handmade Tufted Headboard with Nail Head Trim:
If you have not satisfied yet about how to make tufted headboards of your own then here is another charming one! Beautifully tufted in the same way! It is as stylish as it is soft and comfortable! Full guide and tutorial here
orange-sugar.blogspot
Self-Installed Bed Canopy Headboard:
Cut the fabric you have chosen with your own custom prints, to size! Get 5 feet extra to size that covers entire background wall from bottom to ceiling! Extra 5 feet would be for the canopy! For installation of canopy, install two adjustable curtain rods, one to ceiling and one to wall! Use well suiting hardware brackets to fix the rods tight without any danger of injurious fall! Put the fabric on the rods and let it hang, canopy headboard is ready!! Full Guide and Tutorial Here
designsponge
DIY Wrought Iron Headboard:
If you have a piece of iron fence or a wrought iron grill, then simply give it a solid wooden base to let it stand individually! Next you can put it behind your bed as a rustic accent headboard! Complete direction and DIY instructions here
somedaycrafts.blogspot
Advertisment
Old Door + Rope Headboard:
Need a rustic headboard? Gain a beautiful one by going creative with an old door and rope! Simply give the entire reclaimed old door a rope wrap and get a mind-blowing rustic headboard for free! In absence of the door, a same sized piece of wood can also be used! Here is how to make it
ourfifthhouse
DIY Light Up and Quoted Headboard:
Quoted and lighted headboard have always been a bit more fetching! So time to design them at home using custom DIY techniques! Use the projector to trace out the custom letters on the headboard! Next, palm the hand-drill to holes on the traced out lines of the letters! Now a do a little electrical work and put light inside the holes! don't forget to paint the letters after drilling! Great way to personalize your bed! Step-by-step DIY instructions here
abeautifulmess
Cute Lighted Moon and Star Kid's Headboard:
This special moon and star headboard is going to make kid's bedrooms look more fanciful! Cut a piece of plywood to size, use a paper moon template to draw outlines for the moon! Now fix screws along the traced moon-outlines, push only the half of the screws in the wood! Now use string lights and weave the moon shape by wrapping around the erected screws! Cut out stars from colored papers and mount them around the moon, that's it! Full guide and DIY tutorial here
diynetwork
Advertisment
Vintage Sign into Headboard DIY:
DIY Epic Floral Headboard:
Here is a pretty floral headboard to create bigger decor statements of your entire bed! Fill the white West Elm headboard with West Elm paper flowers and enjoy floral head of your bed! Full DIY tutorial here
designlovefest
Handcrafted Aluminum Flashing Headboard:
Just grab and MDF board in size equal to your headboard! Cover it up with aluminum flashing stripes! Make use of staple gun to fix aluminum flashing in place! This is all you need to do while cloning this terrific and odd kind of headboard! Full DIY guide here
renewredo.blogspot
Advertisment
Easy DIY West Elm Morocco Headboard:
For this precious West Elm headboard, just stick 2 of rubber mats side by side on a plywood sheet! Be careful about the sizes! Fix the rubber mats on wood using nails and don't forget to paint and stain the plywood in our favorite color! Complete details here
karapaslaydesigns
Amazing Pegboard Headboard:
Use peg boards to install headboard that will be capable to hold further your mural art frames and decorative toys too! Here you can see a hand-built one, as cool and stylish as one can wish a headboard to be! Step-by-guide DIY instructions here
sugarandcloth
Precious String Light DIY Headboard:
Get the lights and cable clips in hands and just fix them on the lines drawn with a pencil! it may even be a house or a cartoon or even a shape of animal! Using lights is another cool way to install distinctive headboard to kid's bedrooms! Want to copy this project? Complete guide and DIY tutorial here
vtwonen
Advertisment
Picket Fence Wooden Headboard:
Prepare a wooden headboard first and then cover it up with picket fence pieces arranged in a pattern! You can paint picket fence pieces differently for a colorful look or just keep the natural rustic look of them! Here some of picket fence pieces have been whitewashed a little before getting mounted on the wooden headboard! Further details and DIY tutorial here
diynetwork
Hand-built Vintage Styled Headboard:
Make use of burlap fabric while getting the headboards covered for vintage style statements! Burlap covers may even work great for the headboard you are going to tuft! Rest of detail and full DIY guide here
myhomeideas
Modern High-Back Tufted Headboard:
Want to own this snazzy high-back tufted & modern headboard? Built it your own on a low-cost price using your favorite fabric cover, batting and foam! Would be cost-efficient way to get your bedroom luxurious! Here is how to make it
cleverdiy.weebly
Advertisment
Self-Installed Floating Headboard with Back LED Lights:
Measure the area behind your bed for the headboard! Install brackets, LED lights and stud mounted cleats to measured area! Now install a piece of wood with MDF backing as headboard and cover up the space! Floating lighted headboard is ready to fancy up your bedroom at night! Full DIY tutorial here
removeandreplace
Lasting Chain-Link Headboard:
Unique Art Style Headboard:
Reclaim bigger mirror or picture frame to build special headboards! Just paint the in your favorite way and cover it up with a fabulous fabric you like and finally make the inside of it upholstered! Rest of detail and DIY tutorial here
bluedogzdesigncom
Advertisment
Fabric Covered Tufted Curvy Headboard:
If you are willing to have outstanding good look of your bedroom then owing this floral tufted headboard is mandatory! Basic curvy shape is made of plywood while batting and foam sheets have been applied for better tufting! Complete details and full free DIY guide here
taylormadecreates
Precious Curtain + Lights Headboard:
Install an adjustable curtain rod to ceiling-wall corner! Now chose your favorite curtain (should be transparent for light emission) and add the LED lights to backside of it! This headboard would be above all in making your bed look fanciful! Full guide and DIY tutorial here
simplyyourcreations
Easy-to-Make Cottage-Style Headboard:
Grab a primed MDF plywood board and just fill it up with custom vertical and horizontal arrangements of wooden board! Give a nice paint finish at the end and enjoy a cottage-style headboard on an ever low cost price! Complete guide and instructions here
diynetwork
Advertisment
Curvy Repurposed Wood Headboard:
Put together the slats of wood you have selected and tape the curvy paper template over them! Trace the outlines using a marker and then keep on cutting the wood long the traced lines using a jigsaw until you left with only a curvy headboard design! Brace the backside of it and enjoy a self-made stylish headboard! You can use the pallet wood slats for this project! Further details here
remodelaholic
Distressed Upcycled Wood Headboard:
Pluck apart the planks from pallet boards and put them together for custom headboard shapes and designs! This is an every inexpensive way to gain arty style wooden headboards! Full guide for this headboard here
livesimply
Faux Shiplap Key-Stone Wooden Headboard:
Use a paper template to cut the arched top of the headboard! Rest of body of headboard is all easy to make! Just brace some wooden slats together for it! Apply the arched top and borders and enjoy this free shiplap headboard design! Will give subtle manifestation to your entire bed! Complete DIY tutorial here
homedepot
Advertisment
DIY Headboard with Decorative Shelf:
This headboard project is just going to blow your mind! Having a shelf on the back bed's wall? Just turn it into a cozy headboard through some easy steps! Here is how to do it
robin-happyathome.blogspot
Old Door Vintage Headboard with Light Scones:
Reclaim an old door for building a vintage headboard! Trim it down to size, add custom legs and finish it up with custom light scones at both ends! One can also prefer the reading lights! install the better hardware to its legs so it will fit easily to your bed! Complete guide here
bydawnnicole
Amazing Woven Wood Headboard:
Here is what amazing you can do with plywood stripes! Woven them for an adorable headboard design! The most amazing DIY headboard project for bedroom lovers! Want to know how to weave better the plywood stripes? Here is the full DIY tutorial and guide
lowes
Advertisment
DIY Old Door into Epic Headboard:
Make use of old doors to enhance the character and decor of your bedroom! By adding custom legs to an old refurbished wooden door, gain precious headboards for your bedroom! If the door is having some built-in squares or rectangles, just cover them nicely with printed fabric for more stunning looks! Full DIY guide and tutorial here
vintagerevivals
Upholstered Headboard with Accent Nail Head Trim:
Another modern headboard achievement for bedroom lovers! Scooped self-tufted bed with accent nail head trim! Have all the modern headboard features! Get ready with a little bit of wood, fabric, foam and batting and also with a little bit of patience to clone it at home! Here is a step-by-step guide for you
southernexposure1.squarespace
Cute Rainbow Book Headboard:
Really don't know what to you with scrap book covers? Time to reuse your long forgotten book for building outstanding headboards! Add multi-colored old book covers to a plywood board cut to size of a headboard and enjoy a delicious self-made version of a headboard! Perfect gift for the book-worms! Here is how to make it
instructables
Advertisment
Green Painted Wooden King Headboard:
Scrap wood is always around you, why not live more with that wood lying useless? Get crafty with leftover wood and install bizarre designs of headboard! Checkout this sturdy king size wooden headboard painted in green, is entirely hand-built one! Want to know more about the construction steps, here is the full tutorial
deepthoughtsbycynthia.blogspot
Precious Vintage Sheet Headboard Project:
Keep on attaching the MDF wall art squares together through wooden strips! Just stop adding more when you get a shape of your headboard! Paint the entire headboard and cover it up with floral fabric that will be visible through front openings! Now use the foam squares to fill up the back sides, this will also be a way to settle the fabric down in place! Full guide and DIY tutorial Here
happinessishomemade
Vintage Reclaimed Shutter Headboard:
Revamp old shutters and paint in a fab color! Now start adding them to background wall of your bed! Soon you will get a fantastic headboard there! Pretty simple yet amazing hack for a headboard! Full guide here
samanthaelizabethblog
Advertisment
Quick-to-Build Wooden Floating Headboard:
Use appropriate hardware hanging systems to install wooden planks t background bed's wall! After you install the desired number of wooden slats, you will get a floating rustic headboard! Time to make some stylish rustic statements in your modern bedroom interior! Full guide and DIY tutorial here
brianhazzard
Beautiful Tile Style Hanging Headboard:
Layer together the plywood squares, batting and fabric squares for tufted tiles! Now attach these tiles onto an additional wooden board and get fab headboards for your bed! Easy and budget-friendly way to gain stylishly tufted headboards! It is sure to create a splashy look of your bed! Complete details here
curbly
DIY Headboard Project:
Advertisment
Precious Herringbone Stenciled Headboard:
Choose custom stencil patterns and just fancy up the background wall of kid's bedrooms with them! Stencil headboards would all be a great choice to remodel kid's bedrooms for amazingly fancy and unique looks! Don't forget to add a wall monogram in the center after finishing stenciling, this will jazz up the pattern more! Want to learn more about this stencil headboard? Here is the complete guide
thecardswedrew
Self-Made DIY Modern Tufted Headboard:
Modern tufted headboards can't be easy on our wallet! If you just love tufted headboards then why not make your own special ones at home? This will be highly cost-efficient way too! All you need is to put together the wooden template, foam sheet and batting together and final step would be to wrap it in a nice fabric cover! Here is the complete tutorial for this modern tufted headboard
classyclutter
Hand-Built Modern Window Headboard:
Use different sets of wooden strips to build 5 rectangles of same size! Attach them to an additional wooden frame using extra wooden stripes to their all 4 sides! Now paint it to start using it as a gorgeous headboard in your headboard! Full guide and tutorial here
decorandthedog
Advertisment
Rustic Wooden Headboard:
Go handmade with individual wooden slats you have got from any source! Put them together for a large rectangle which would actually be your headboard! Stain it for a rustic avatar and don't forget to install the legs that will raise it to a decided height level! Complete directions here
chiconashoestringdecorating
DIY Shutter Headboard Tutorial:
Clean up the gunk layers from old shutters and recondition them using paint and other primary operations! After you get them visually attractive, put them directly to backside of your bed as a mind-blowing headboard! Another cool DIY headboard suggestion! Complete details here
thediydreamer
Art Style Twin Upholstered Headboard:
Want this curvy headboard next on your bed's back? It will be all easy to make at home if you are handy at tufting! If not yet, then here is complete guide about tufting and making this headboard
carissamiss
Advertisment
Self-Tufted Modern Headboard:
Another amazing self-tufted headboard, here it comes with a precious burlap cover for a stunning vintage touch! Choose your favorite plywood, batting and foam and also the final fabric cover to experiment it now! To assist you full guide and DIY Tutorial here
houseontheway
Beautifully Tufted DIY Modern Headboard:
This tufted headboard has been done by using 2 old MDF door, braced together! Braces are a little bit longer so serve as legs too! Here tufting has been done using and additional hole board that makes it all easy! Full detail about it here
homemadebycarmona
Stylish Blue Tufted Headboard:
Again a modern tufted headboard with blue silk fabric cover! Will style up your entire bedroom up to trends! It would be a whole piece of furniture to give a luxurious touch to your bed! Here is how to make it
placeofmytaste
Advertisment
Glam Upholstered Headboard:
Camel Back Style DIY Upholstered Headboard:
Camel back styled headboards are all popular and considered as most fashion-worthy! So we have picked up this tufted camel back headboard which can be added next to your bedroom for all adorable and luxurious looks of your bedroom! Full tutorial here
blog.jennasuedesign
King Tufted Modern Headboard:
This headboard would be a compulsory final addition to your bed if you are all intending to bring modern vibe to your bedroom! Copy it now with the help of this free guide and DIY tutorial
littlegreennotebook
Advertisment
Easy-to-Make Tufted Headboard Project:
Fab work!!! A king tufted scooped headboard! Involve your friends and family members to have more fun while doing this project! Step-by-step guide here
chicagonow
Extra Brilliant Tufted Wingback Headboard:
Wingback headboards are all the rage now, if you are thinking that they are far away from your access then it may not be true! Now you can build your own wingback tufted headboards at home! Here is the complete DIY tutorial that will guide you for all the necessary steps
diynetwork
Modern Upholstered Wingback Headboard:
Nothing can step you now from having a luxurious bedroom! Wingback upholstered headboards are all easy to install now at home! All you need for a luxurious touch to your bed! Select your plywood, batting, fabric and foam to clone this wingback tufted headboard! Not handy at tufting? No need to worry about it, here is the complete step-by-step guide
allthingsthrifty
Advertisment
Diamond-Tufted Upholstered Headboard DIY: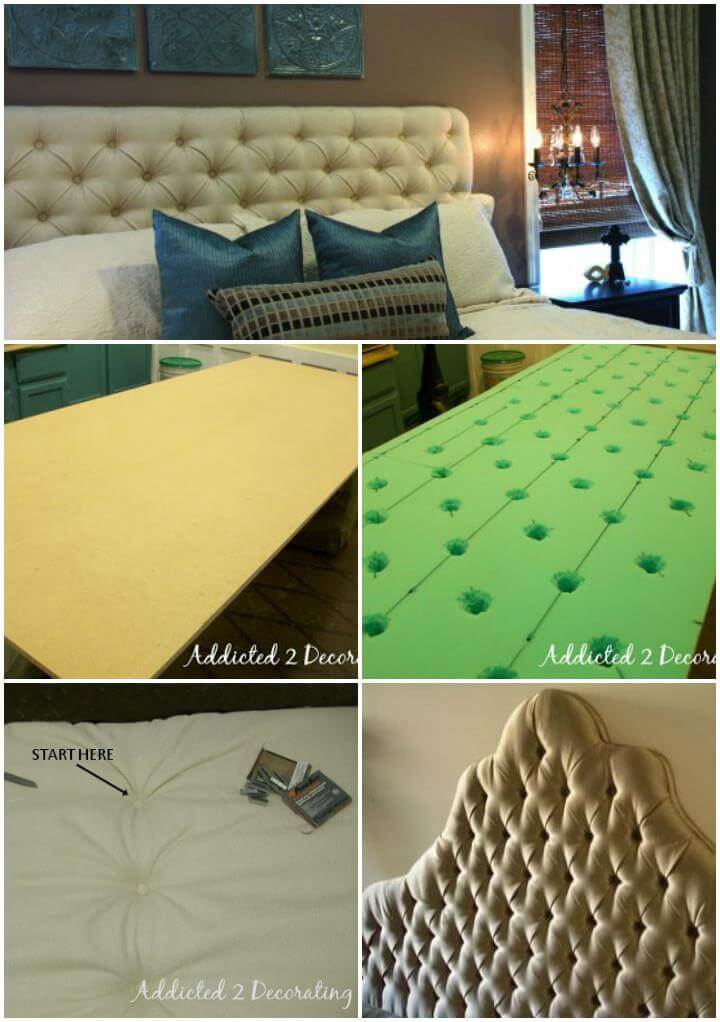 Is your bed is losing some fashion points? Not having a modern bedroom may a major reason! If yes, then now it is all easy to approach modern tufted headboard! forget about the expensive purchases, we are all talking about making them at home! Still not believing it? Take a look at the given sample! Want to duplicate it now? Here is the step-by-step guide
addicted2decorating
You can try find out more about
Superb DIY Headboard Ideas
JUST USE THIS FORM FOR SEARCH